Well gang, I did it! I made my first ever Munny (click here to read my introduction post on that).
Just to recap: 
a Munny is a blank figurine that you can customize however which way you'd like.
I decided to make my Munny into one of my characters: Kara Magari from my debut novel, Lichgates. 
I'm geeking out because it actually turned out kinda cool.
So, without further adieu, Kara Magari the Munny!
The Photos
Before
After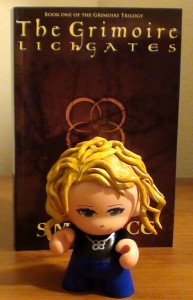 Gah! I think it turned out pretty well! What do you think? If you want to see how I did it, I made a how-to video to hopefully inspire you to make your own Munny. Who will you make?
The Video
I filmed how I made the Munny, but my video editing software seems to have finally crapped out completely. Every time I try to save it as a movie, it deletes another few clips from the overall movie. I'm pretty frustrated with it, so I'm just going to have to wait to post the how-to video until I get better software. Thanks for understanding.
Categories
Book Reviews
Get the Digest
Join 170+ others who get a weekly digest sent every Wednesday.
Follow Boyce's Blog:
The Latest Discussions: